Batterie Etendue
Yves Chaudouët, Paul Destieu, Alexandre Joly, Valentina Magaletti, Tachycardie, Stéphane Vigny
EXPOSITION REPORTEE A 2021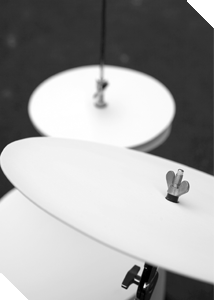 L'exposition Batterie étendue est née du constat d'un retour en force depuis quelque temps de la batterie autant dans les bacs des disquaires que sur le sol gris des galeries.
Les trois installations réunies pour cette exposition forment un sorte de méta-batterie, occupant toute la surface de l'espace d'exposition des Ateliers du vent. Ainsi c'est tout le contraire de ce qui fait une batterie qui est proposé ici. Alors qu'elle est née de la réunion de diverses percussions dans un espace réduit, à porter de main et de pied, « Batterie étendue » propose non seulement d' éparpiller, mais aussi de démultiplier, augmenter, substituer certains matériaux ou éléments de celle-ci.
The idea of the exhibition « Batterie étendue » came up from the observation of the resurgence of drum in the bins of record stores and on the grey floor of exhibition spaces. The three installations brought together form a sort of meta-drum occupying the entire surface of Les Ateliers du Vent exhibition space. While the drum was born from the gathering of various percussions in a reduced space, close to hand and foot, « Batterie étendue » proposes not only to scatter, but also to multiply, extend, substitute some materials or elements of it.
---