The Ripple Effect :
Kokin (…) Slendro

Julien Grossmann
Orangerie Est du Thabor – Rennes
Exposition du 8 au 30 juillet 2021
Ouverture en présence de Julien Grossmann le vendredi 8 juillet de 14h00 à 18h30
Ouvert tous les jours de 14h00 à 19h00
Gratuit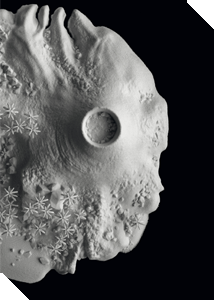 L'installation sonore Kokin (…) Slendro concentre les thèmes majeurs qui parcourent le travail de Julien Grossmann nourri par l'ethnomusicologie et les relations entre musique, pouvoir et identité.
L'oeuvre composée de six dioramas sonores rotatifs nous propose de parcourir le monde au travers de six échelles musicales représentées chacune par une petite île posée au centre d'un disque vinyle. Sur les six disques, six compositions musicales différentes de l'artiste jouées au synthétiseur reprenant une des six gammes musicales et le timbre d'un instrument traditionnel. Se jouant de notre perception et de nos représentations, l'artiste utilise la musique comme marqueur géographique, sans qu'il n'y ait de concordance réelle entre le paysage insulaire et la musique qui l'accompagne. Au travers cet exotisme sonore et visuel du diorama, c'est notre relation à l'imaginaire des lointains, lui-même colonisé par l'héritage colonial, que nous propose d'explorer Julien Grossmann.
The sound installation "Kokin (…) Slendro gahter" the main issues that run through Julien Grossmann's works feed by ethnomusicology and the relationships between music, power and identity.
The artwork, six rotating sound dioramas, invites us to travel the world through the six main musical scales, each represented by a small island placed at the center of a vinyl record. On the six LPS, six different musical pieces composed and played by the artist on a synthesizer taking up one of the six musical scales and the tone of a traditional instrument. Each instrument piece is not in real concordance with landscape it is presented with. Julien Grossmann uses here music as a cultural landmark, a geographical marker. Through this sound and visual dioramas the artist plays with our perceptions and representations of the faraway, what is exotic. An imaginary itself colonized by the colonial heritage, that Julien Grossmann offers us to explore.
Site web Julien Grossmann
Dossier de Presse