Instrumentation
Peter Flemming (CA)
Exposition à la chapelle Saint-Joseph (Montfort-sur-Meu)
Exposition du 23 octobre au 8 novembre Vernissage le 22 octobre à Montfort-sur-Meu, précédé du concert de Pascal Pellan à l'avant scène à 19h00.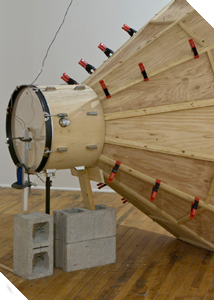 PETER FLEMMING (CA) ET PASCAL PELLAN (FR) ONT EN COMMUN LE GOUT POUR CETTE ACTIVITÉ LE PLUS SOUVENT PRATIQUÉE LE DIMANCHE: LE BRICOLAGE. AVEC DES MOYENS DE FORTUNE, ILS FABRIQUENT, COMBINENT, ASSEMBLENT DES MACHINES ARTISANALES, PARFOIS BANCALES, QUI, UNE FOIS MISES EN MOUVEMENT, TISSENT DES UNIVERS SONORES POÉTIQUES ET NARRATIFS.
« Instrumentation » is a site-variable, kinetic sound installation. Upon entering the main installation space, one hears a shimmering polyphony of harmonics, sudden crescendos and arrhythmic beats. At odds with the elegance of these sounds are the unlikely resonators from which they emanate, cobbled together from scrap wood, clamps, buckets, drums, salvaged windows and hand-wound electromagnetic coils.
---
PARTENAIRES :
Exposition et concerts coproduits avec la Ville de Montfort-sur-Meu et l'Apaté Lieu d'Art contemporaine du pays de Montfort ainsi qu' Arts-Vivants en Ille-et-Vilaine.