Openbaar Kabaal
The Beaters
Thomas Rutgers & Jitske Blom (NL)
« OPENBAAR KABAAL »
Concerts impromptus dans l'espace public. « THE BEATERS »
Installation sonore présentée à l'Ecole Nationale Supérieure d'Architecture de Bretagne, du 16 au 25 octobre 2013.
Vernissage le 16 octobre à 12h30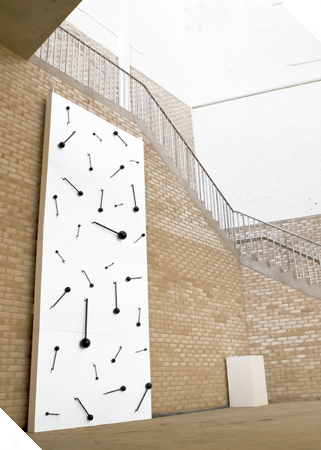 PREMIERE VENUE EN FRANCE DE CE JEUNE DUO NEERLANDAIS ALLIANT DESIGN, MUSIQUE ET TECHNOLOGIE.
IlS PRESENTERONT LEUR PERFORMANCE SONORE « OPENBAAR KABAAL » UTILISANT LE MOBILIER URBAIN COMME INSTRUMENT AINSI QUE LA VERSION INSTALLEE DE CETTE PERFORMANCE A L'ENSAB.
For their first exhibition in France the Dutch duet of artists presents an installed version of the performance « Openbaar Kabaal » commissioned by Resonance and the performance itself in the streets of Rennes.
OpenbaarKabaal turns we turn everyday street furniture into sound generators. By attaching remote controlled percussion devices to them, rhythmic improvisations are played on lampposts, traffic signs and litter bins. This public space orchestra gives us a surprising new look at our surroundings by listening to it.
'The Beaters', also uses the sound of drumming, but this time emphasizing the hammer itself. The installation consists of a large sounding box with dozens of beaters attached to it. But there's more than meets the eye: materiality is disguised, movement manipulated, and even gravity defied, showing us how visual information can make us hear in a different way.
---
PARTENAIRES :
« Openbaar Kabaal » : sur une proposition du Bon Accueil dans le cadre de la saison de La Criée « Courir les rues » et en partenariat avec l'association Electroni[k].
« The Beaters » : Installation produite par Intro In-situ (NL) dans le cadre de Resonance : A European Sound Art Network avec le soutien de l'Union Européenne (Programme Culture 2007-2013). Installation sonore présentée à l'Ecole Nationale Supérieure d'Architecture de Bretagne (Rennes).
---